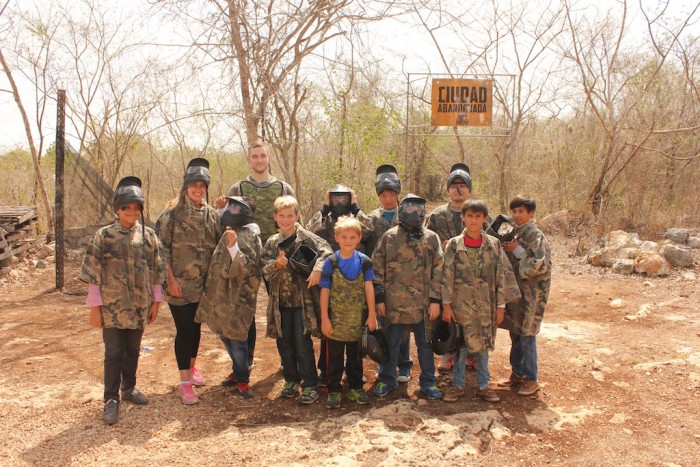 For Evan's second birthday party, he chose to go to Gotcha, which is the Spanish term for Paintball in the area. He actually decided that this would be his birthday party in December, but wanted to wait until Kayla came from Calgary to celebrate with him. An added bonus was that our long time friends from Calgary were also here for the week and Spencer got to play too!
We had been to Actix park in Merida and the paintball there is ok, but we were looking for a bigger area. We certainly found it! Tixkokob offers 4 different fields for people to run around shooting each other.  They have many different packages based on your group size. We chose the package where if kids ran out of "balas" they would run to the booth and add more… then I would pay extra when leaving! It worked out great, but I was quite scared about the end amount. However, it seems that 2000 extra bullets is more than enough for 10 children. Some of them were dropping like flies after being hit, but most of them made a quick recovery and came back out.
The first game we played was a disaster… we divided up into two teams: ninas and adultos against the ninos. That was fine, then it all fell apart because we actually were not playing a game of any sort except for seeing who could unleash the most amount of paintballs the quickest into the other team. Some tears were shed at this game! Then we got a little smarter and actually started playing capture the flag and if you were hit once, you were out for the game. As there was only 5 or 6 people per team, this worked out well and kept the pace of the game going.
I cannot tell a lie, getting hit by paintballs hurts! Plenty of bruises going around this fine day. A few tears here and there and some rolling around on the ground in pain but mostly a day enjoyed by all. Definitely not for the faint of heart.