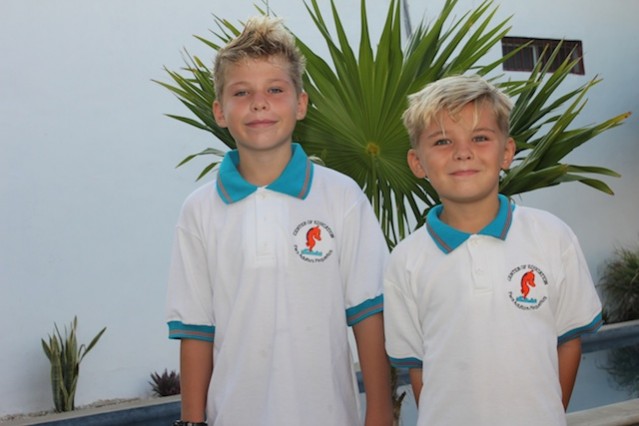 It is very hard to believe that our little one year adventure has turned into this! We are still enrolled in the Montessori school run by Debbie here in Progreso. I believe that our boys will finish grade 6 in this little school before we have to decide which of the other schools they will be going to for their junior high years.
The boys are just starting their FOURTH year of school in Mexico and are loving it! Evan has just started grade 5, and Noah is now in grade 3. Both of them have new teachers this year and are very excited. They each have 6 children in their grades and a total of 12 children in each of the classrooms. I believe that this year there are 82 students attending this kindergarten to grade six school. Noah's teacher is Luis and I believe that the two of them are off to a fantastic start – Luis will ensure that Noah's home work book is written in every day so that Noah cannot tell us 'he already did it at school' every day.
Many of the children are the same as before, but we find that every year some children leave the school and new ones appear. I actually was not rushed this morning, so I got to take some pictures of the boys before leaving for school — and I also had the time to cook them some eggs and toast! Which of course they were much to excited to eat

The boys even had the time to do their own hair today, which was very exciting for all of us! I think they did a great job and looked absolutely fantastic.
We are looking forward to a fantastic school year and wish the boys all the best on their new grades!
[tribulant_slideshow post_id="6879″]