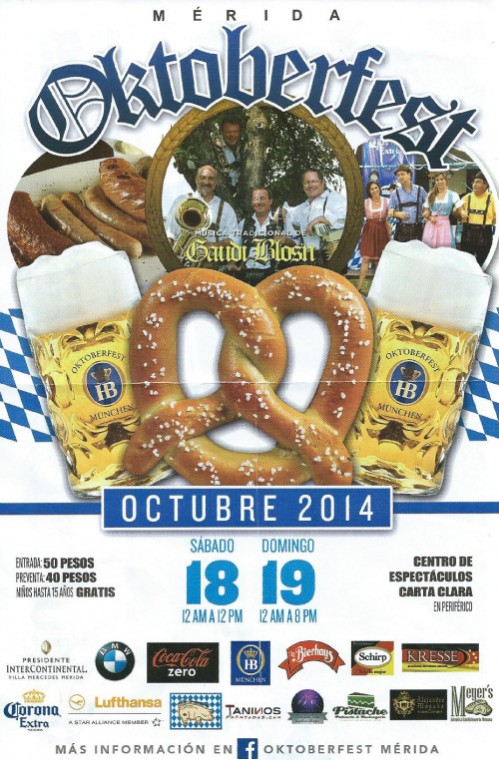 Yayy, what are we doing this week-end you might ask… We are going to OKTOBERFEST in Merida, Yucatan! We are so excited to check out this event which promises to be a lot of fun. You can find out a lot more information at their facebook page, please visit the page, like it – love it, share it! Spread the word
Saturday & Sunday
I believe the festivities run from 12pm to 12am on Saturday and 12pm to 8pm on Sunday afternoon, but I am not sure if the flyer is incorrect with the times! Located just off the Periferico of Merida and they are expecting a lot of people. See map below to event location. 50 pesos at the door and 40 pesos in advance at a number of locations, see the flyer.
Looks like families are welcome, we shall see! We are so looking forward to trying all the different sausages, and pretzles, and of course the BEERS!!!
This will be our first time attending this event and we are excited. I will definitely be adding some pictures from the event. Hope to see you there!
From their Facebook page translated very loosely:
Guten Tag friends! This year we are very excited to go back to live in this wonderful celebration and that is the oktoberfest, a party full of fun, food, games, music, and much more! And this year we went back enhanced and recharged to serve you better party German, join US ONCE AGAIN, this 18 and 19 October in the garden Carta Clara, come with your friends or family to spend a little while super nice… The hope!!