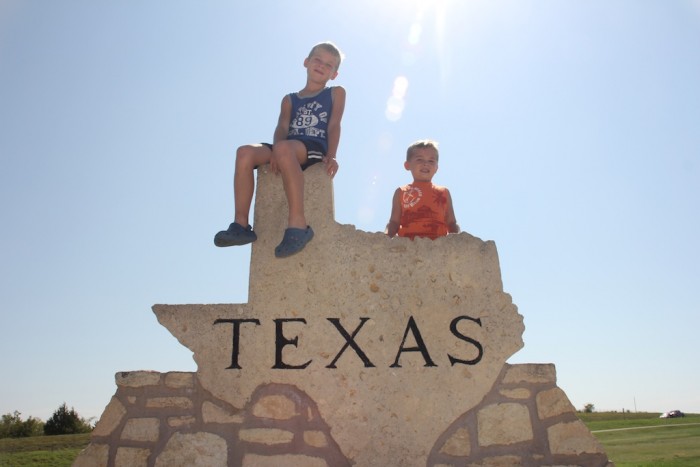 Our family drove in September of 2012 leaving on the  Labor Day Monday with two adults, two kids, and our dog in a fairly loaded up van complete with a roof top carrier and a bike rack. The drive itself was amazing and we are so glad we did it. Driving through Mexico was beautiful and the scenery we saw was very unexpected. Definitely worth taking the time to see.
I do have many pictures of the trip, but unfortunately I need to recover them from my computer before I can post them. I will post them as soon as I am able.
This is the "coles notes" version of the trip.
Road Trip
Day 1
Lethbridge, Alberta  to West Yellowstone , Wyoming 
Highway #4 to  the Coutts border (Kurt decided to get a gusher of a bleeding nose 3 cars before we hit the immigration officer)
Highway #15 -Border to Great Falls- stopped for  Lunch and Gas. **  Thanks to Dave and Monica for packing us delicious sandwiches!
Highway #15 –Great Falls to  Helena to Butte
Highway #90 – Butte  to Bozeman
Highway # 191 – Bozeman to West Yellowstone
Dinner in West Yellowstone (Pizza), highly recommended by front desk and was very good!
Stayed overnight in West Yellowstone at Comfort Inn $180 per night ( including Pet Fee)
Day 2
West Yellowstone – Grizzly/Wolf Rescue Sanctuary – Family of 4 -$32.00 – definitely worth seeing and supporting if you like bears and wolves- our son Evan said it was his favorite part of the trip.
Spent the day in Yellowstone National Park
Park Pass -$25
Saw Old Faithful, Morning Glory Pool, Many Geysers, Painted Mud Pots
Left Yellowstone National Park from the East
Highway # 20 towards Cody.
Dinner in Cody (Wendy's)
Highway # 120 – Cody to Thermopolis.
Stayed overnight in Thermopolis at Days Inn -$118 (including Pet Fee)
Day 3
Highway # 20 Thermopolis to Shoshoni  to Casper.
Highway # 25 – Casper  to Cheyenne àDenver
Highway #70 – Denver to Burlington
Lunch in Cheyenne (Subway)
Dinner in Burlington (McDonalds)
Stayed the night in Burlington at Comfort Inn -$145 (including Pet Fee)
Day 4 
Highway #135 – Salina to Wichita
Highway #35 – Wichita to Oklahoma City
Lunch in Salina (Taco Bell)
Dinner in Oklahoma City (Western Sizzlin Buffet)
Stayed the night in Oklahoma City at Best Western -$130 (including Pet Fee)
Day 5
Highway #35 – Oklahoma City to Dallas/Fort Worth to Waco to  Austin to San Antonio
Lunch in Fort Worth ( Panda Express- Chinese)
Dinner in San Antonio on the River Walk  (Hooters)
Stayed in San Antonio 2 nights  at La Quinta -$157 per night (including Pet Fee)
Day 6
San Antonio
Alamo- Free + Alamo IMAX -$45 (45 min show-worth seeing if you have no clue about the Alamo)
Lunch (Jack in the Box)
Dinner (Italian on River walk-downtown san Antonio)
Day 7
Highway #35– San Antonio to Laredo
Lunch in Laredo (Arby's)
Dinner in Laredo (Sushi)
Stayed at La Quinta -$95 (including Pet Fee)
Day 8
Laredo / Mexican Border
Bridge #1 – went into the line "Items to Declare"
Had all of our items in numbered bins and a corresponding list itemizing each bin ( In English and Spanish) + Had our dogs Rabies Certificate and Vaccine records.
Charged us  $626 MX  ($50 US) for all of our things.
After  the border went to Aduana/Immigration  to register our Van (attach our van to our FM2 visas)
When you leave the customs area you turn right.. follow that road until you see a "U-turn" sign on your right hand side (this is maybe 500 meters down the road …follow this road around to the right and under a bridge and the Immigration Building will be on your right hand side (It will feel like you are driving back towards where you just came from)
Inside the building go to Booth 1- this is where you show them your Passports, Visas and tell them you want to register your vehicle with your Visa. They will stamp your passport and send you to Booth 2.
Booth 2 was where I showed her all the documents needed to attach my van to my F2 Visa
FM2 Visa –Original and copy
Drivers Licence – Original and Copy
Car Registration – Original and Copy
 Mexican Car Insurance –Original and Copy (we got this organized before we left Canada)
 Certificate of Car ownership-Original and Copy
( We had a letter stating that the van was paid in full from Honda)
You tell her how you want to pay- If you pay Cash – it is $50 + $350 deposit
 If you pay by Credit Card –they only charge the $50
Then she will send you to Booth 4 which is where you Pay.
Now that we have all of our documents in order we are on our way!
**NOTE– When possible take the Quota Highway (toll road) –the  number usually has a D after it or if you see a sign that gives you an option of Quota or Libre to your preferred city ALWAYS take the Quota. Sometimes you will drive a little ways on the regular highway and then get on a Quota for part of the time.
Highway #85 and 85D – Laredo to Saltillo
Before you actually hit Saltillo you will get onto the Quota to go to San Luis Potosi
About 20 km from Laredo you will come to another Immigration stop where you will get the Green light or Red light….we got the Red Light…L but after showing the officer our Duty receipt she just let us go (thank goodness we didn't have to empty the Van again!)
Highway # 57 and 57D -Saltillo à San Luis Potosi à Queretaro à San Juan del Rio
Stayed the night in San Juan del Rio- $480 MX ( $40 US) **Tried to stay in Queretaro but could not  find a hotel that would take pets.
Lunch –was snacks in the car
Dinner- San Juan del Rio (McDonalds which had wifi and from there we looked up hotels in San Juan del Rio)
Day 9
Highway #57 and 57D – San Juan del Rio à Mexico City
**DO NOT GO THROUGH MEXICO CITY** GO AROUND IT VIA the ARCO NORTE Toll ROAD
Arco Norte – Mexico City to Puebla
Highway #150D – Puebla to Orizaba to Cordoba to towards Veracruz
Highway #145D –towards Minatitlan
Highway # 180  and 180D – Minatitlan to Villahermosa  (careful on part of this highway-TONS of potholes)
Lunch in Puebla (pizza)    No Dinner-just beer for Kurt-stressful day!
Stayed in Villahermosa at the Hilton $145 (including Pet Fees)
**Drive all the way through Villahermosa on the main drag-stay in the left lane-once you are through town follow the signs to the airport-DO NOT TAKE THE AIRPORT EXIT-keep going and just past the airport exit you will see the Hilton on your left on a hill. As you pass it get in the left lane and take the Retorno (about 1 mile) past the hotel. Get into the right lane as you come back towards the hotel and you can pull into the driveway heading up to the Hilton on your right.
Day 10
Highway #186 and 186D – Villahermosa to Escarcega
Highway #261 – North to Champoton ( Stay Left at the Burger King in Escarcega)
As you approach Champoton you need to make a LEFT towards the coast. Turn left at the Intersection with a statue in the center of a traffic circle…when you get to the coast take a Right and follow it through town (curvy  road with lots of topes) This is Highway 180 along the coast.
Highway 180D – Quota to Campeche then Highway 180 again- to Merida.
Once you get to Merida you get on the Periferico and head towards Progreso!  HOME!!
Gas (Van)       
Yes, fill up when you can!! even when you might not be empty. You can see a couple of times where we were very close to empty and driving in to gas station on fumes (my dad would not be impressed!).
Lethbridge- $67
Great Falls – $60
West Yellowstone- 38
Thermopolis – $54
Cheyenne – $42
Salina – $60
Limon -$27
Oklahoma City – $40
Wichita – $60
Fort Worth – $60
San Antonio- $60
Laredo – $60
Saltillo – $51
San Luis Potosi – $40
Puebla – $60
Arco Norte- $42
Minatitlan- $37
Villahermosa -$35
Escarcega – $42
Total – $935
TOLLS in Mexico:
Ok, so tolls in Mexico… Lots of them! and they add up quickly. Be sure to have enough pesos just set aside for tolls.  Have about 1500 pesos just for tolls! Many parts of Mexico as you drive on the toll road do not have bank machines. Our credit card company activated the anti-fraud on our card and we were unable to use it at and we had depleted our pesos. If you are using your credit card for tolls and gas be sure to let your credit card company know in advance!
[tribulant_slideshow post_id="4556″]