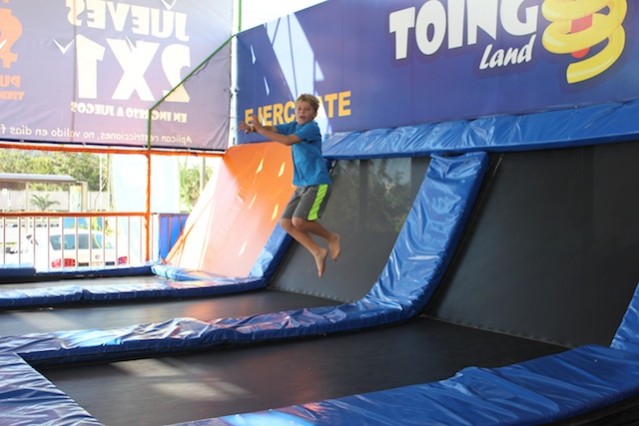 We have driven by the TOING trampoline center many times and the kids have gone before, but this was our first time going. Definitely on the list of things to do while in Merida with kids! The trampolines are set up and it says that it holds 55 kids although I think that would be a little bit much and somebody's head would get hit. We arrived at about 4pm on Saturday afternoon and the place was empty which was fantastic. By 5:30 the place was filling up and it was time for us to leave. There is a person who is in the trampoline area teaching the kids to do tricks.
Today they went with Bruno and Sofia who taught them some new tricks from their gymnastics. Evan always has to come home and practice after spending the afternoon with Bruno!
Entrance fee was 35 pesos for an hour or 59 pesos for unlimited time. They also sell monthly memberships for 290 pesos. They offer a variety of menu items for children and seem to specialize in birthday parties. There are trampolines for smaller children as well.
They do have wifi, and a good connection, in case you need to answer some emails, do some work, or play games!
Located near Altabrisa shopping center by the office depot, Toks, Wok to Wok, etc.
Address: Calle 7, Maya, 97134 Mérida, Yucatán
Phone:01 999 308 4151
Hours: Open today · 10:00 am – 10:00 pm