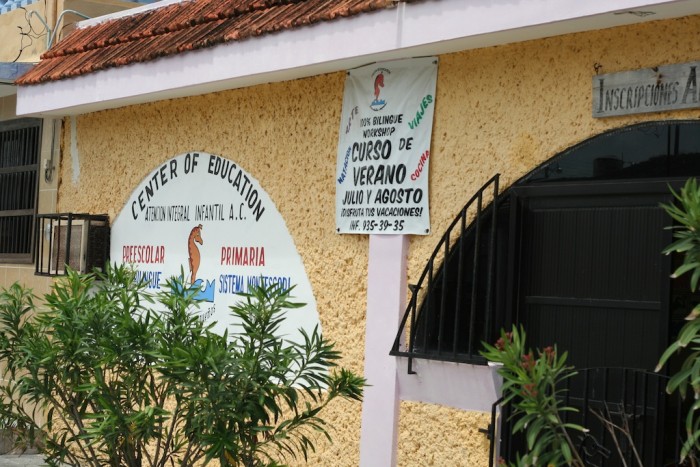 MONTESSORI PRIVATE SCHOOL
Located one block from the beach in Progreso, Yucatan Mexico, (Calle 56 x21 y23) and just a short drive to Merida, this is a fully accredited Montessori school for kindergarten thru grade 6. This is a well established and fully equipped school, complete with 7 teacher employees and a Principal administrator. Included are all buildings, equipment, books, furniture, and complete kitchen, which also employs 2 persons! There are 7 classrooms as well as 5 bathrooms, play ground areas and cafeteria areas.
The Montessori method is an approach to educating children based on the research and experiences of Italian physician and educator Maria Montessori (1870–1952). It arose essentially from Dr. Montessori's discovery of what she referred to as "the child's true normal nature" in 1907, which happened in the process of her experimental observation of young children given freedom in an environment prepared with materials designed for their self-directed learning activity. The method itself aims to duplicate this experimental observation of children to bring about, sustain and support their true natural way of being.
Applying this method involves the teacher in viewing the child as having an inner natural guidance for his or her own perfect self-directed development. The role of the teacher (sometimes called director, directress, or guide) is therefore to watch over the environment to remove any obstacles that would interfere with this natural development. The teacher's role of observation sometimes includes experimental interactions with children, commonly referred to as "lessons," to resolve misbehavior or to show how to use the various self-teaching materials that are provided in the environment for the children's free use.
The method is primarily applied with young children (2–6), due to the young child's unique instincts and sensitivity to conditions in the environment.
Deborah Daguer is the owner and operator of the Montessori Center of Education here in Progreso. The website for this school is http://progresomontessori.com/  There is a "Contact Us" tab on the site as well.