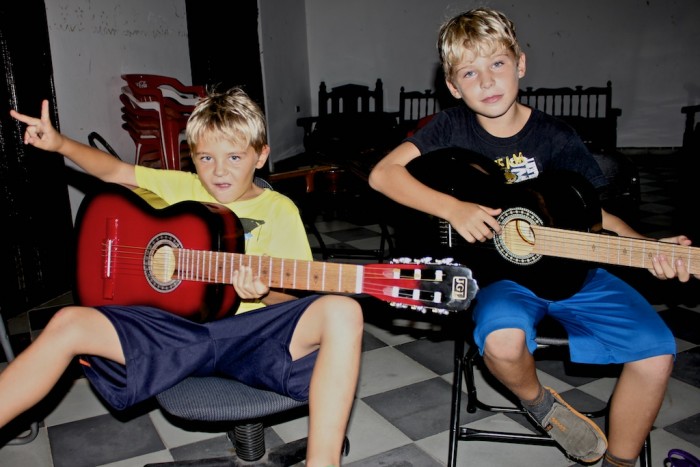 Play the song as you read the text and watch the slide show.
Over the summer, the boys started to learn to play guitar from their cousin Taylor in Calgary. Now that we are back in Progreso, we wanted to continue the lessons for them. Our friend, Joaquin, found us guitar lessons at the Casa de la Cultura in Progreso. There are many cultural programs available to people in Progreso if you know where to look. Now that we are in our third year of living in Mexico, we are really starting to find more of these programs for the children which are a great way to spend time together. We still cannot believe that this is the start of our third year living in Mexico and so excited to continue the adventure we started.
We have three one hour lesson per week- Monday, Wednesday, and Friday. Chucho is our guitar maestro and he is a lot of fun. Today, we had a small "playing exam" where we had to play parts of the song Pagina Blanca. He says that we will be playing this song, plus one more, before Christmas!! I am not sure, but we sure do practice a lot! I  decided to join these lessons as well with the boys and am having a lot of fun learning. Although the lessons are obviously in Spanish, occasionally Chucho will throw in an English word. My biggest problem is remembering everything in Spanish for the new terms. But like I have told my boys, I just have to "Listen with my eyes!"
Today, Chucho was singing along with us as we played our renditions of the song, Pagina Blanca, which was quite amusing as we all seemed to play at our own speed, so at times he was singing very slowly while we figured out where our fingers where supposed to be. The three of us had practiced quite a lot for this pop quiz, so we did ok, but we have a long way to go.
Here is a version of the song we are learning… I think a little advanced for our first song but it is a very traditional romantic Spanish song so we will give it our best shot.
Here are a few of the pictures I took today of the class, with Rapheal who has been a superstar in helping the three of us practice. The four of us are always in the class on time, and we practice together as the other students arrive. Like everything here, a start time of 6pm could mean, anytime before 7pm! We will continue to practice at the Casa de la Cultura in Progreso, and hopefully very soon we will be able to attend the advanced class:)
[tribulant_slideshow post_id="6022″]
 Play the video and listen to the music as you watch the slideshow!
Here is a link to the utube video of Pagina Blanca… wish us luck!