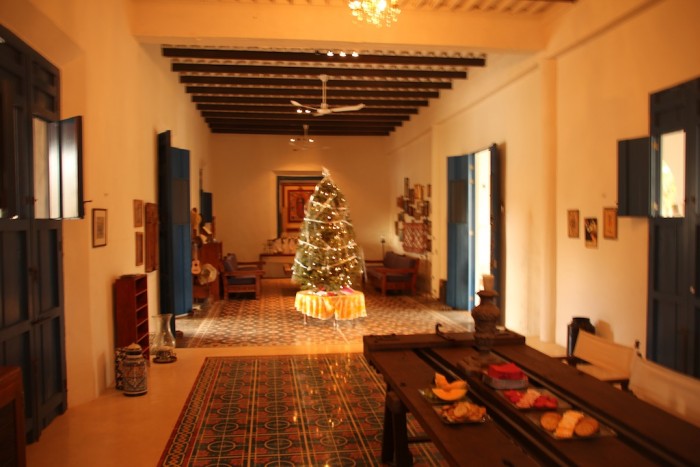 After our tour of Izamal, we drove the 'back-way' to Suma to visit our friends at their new hacienda. We were supposed to arrive at 3pm, but we were late (sorry Dana!). We did text at 3pm on the dot to inform them of our decision to tour Izamal a little longer and to see if they needed any provisions. They asked for some beer for the bar so I stopped at the first Cerve Frio I saw and grabbed some cerveza's! I did not realize that I would pass 15 more cold beer stores on the way to their house on the back roads from Izamal… The drive was quite eventful and we continually asked for directions at every corner to ensure we were headed the right way. Sometimes we wouldn't even slow down, just opened the window and asked the guy driving his motorbike down the road. We knew we were getting closer when you started seeing people not wearing helmuts…
When we arrived, we were still the first to arrive and we were an hour and a bit late (maybe more). This is Mexico after all and all day parties are ALL DAY PARTIES! We quickly settled in, grabbed some beers from their amazing patio bar overlooking the pool and watched the boys go crazy. After all, why shouldn't pools have hammocks where you can launch yourself into the water! (Umm, shortly after the pool photos my camera was not working properly due to the amount of cervezas- but I took some great early pictures!).
Dana & Fabian went above and beyond to put this party on at their Hacienda which is a 'short' 30 minute drive from Merida – much shorter if you are in the car with Fabian!  They invited many new friends they have met in the short time they have been here and put on a beautiful evening. Appetizers were served inside on the fabulous old train tracks table in the dining room. Dinner was lasagna and salads and beer and wine and beer and wine and then there was some dessert and I vaguely remember having a cooking lesson much later in the evening on how to properly make a flan!
Instead of a simple Christmas tree, this year Dana did a Wishmas Tree! She had everyone give her their wishes for 2012 in advance and made a ribbon with all the wishes printed on it. Then she wrapped this ribbon around the tree (from which the friendly bat decided to take a nap!) and had a beautifully decorated tree. These wishes were then placed in the 'straw man' who was lit on fire on New Years Eve at promptly 10pm…. another story!
This was a Christmas Party to remember and we were very glad to have been included in this occasion. My camera seemed to stop working at about dinner time…. so if anyone has any pictures or more comments please add them here!
Thank you Dana, Fabian, Quincella, Adian, and of course the beautiful Vida Dove!
Feliz Navidad!
[tribulant_slideshow post_id="3223″]