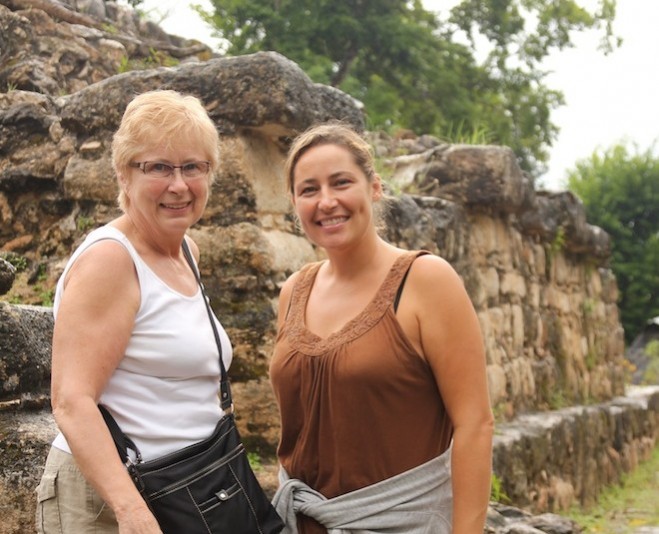 On December 23rd we woke up and had a great breakfast before starting our very eventful excursion. We drove to Izamal, the Yellow City, which is about 1 hour and 30 minutes from Progreso. Evan had been wanting to return to the Yellow City since our first visit as he had found the ultimate table and chair set for Little Blue, his stuffy, and has wanted nothing more than to buy it.  Upon arrival to the Yellow City, we ran from our car in the torrential downpour and quickly chose the horse and carriage which looked to offer the most protection from the rain. By the time we were loaded and on our way, the rain stopped and by our first stop on our hour excursion (200 pesos) the rain cover was quickly removed from the carriage and we were toasty warm in the sun.
Once again the boys were very eager to explore every nook & cranny of all the ruins, much to our chagrin. Ever fearful of the wet, slippery rocks we kept a close eye on them… ya right they were so far ahead of us we had no clue where they were! We did manage to get some great pictures again of all of us at the ruins and Evan even managed to snap a few of me from the top of the Grande Ruin (as he called it).
For the second time we have missed the artisan market which takes place every Sunday from 9am – 3pm in the main square of Izamal – but the next time we go we will be going on a Sunday!
Part Two of Our Christmas Extravaganza in next post!
[tribulant_slideshow post_id="3152″]