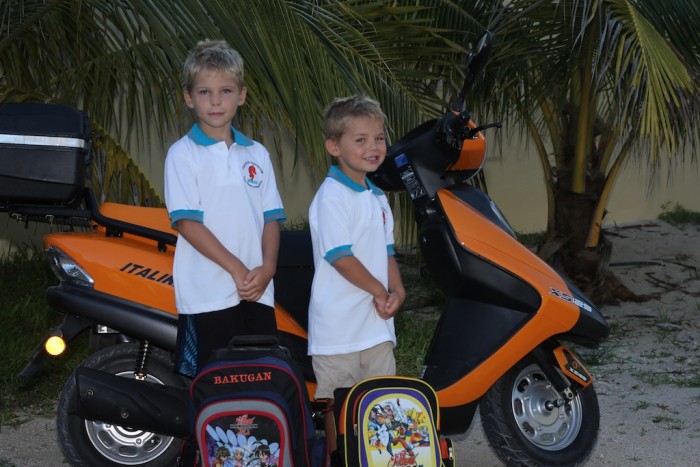 Today was the boys first day of school!
Both boys were very excited but actually went to sleep fairly early and woke up in great moods. After a hearty breakfast of pancakes and fresh strawberries they were ready to be on their way, except for the photo shoot I had arranged for them. The pictures went over well, I think they are getting used to me pulling out a camera to record every event. Noah was of course his crazy little self and even Evan managed a couple of smiles which is a big thing for him in the morning.
So off to school we went, all four of us loaded on the scooter with Lyn wearing the Bakugan back-pack. Made it to school on time, actually a little early and had the chance to meet their teachers. Evan's teacher is Maria-Jose and he has a class of ten students including his friend David whom he met in summer school. Noah's is in a class of ten as well. Noah jumped right in and was doing work when we left. Evan was a little more reluctant as there were only girls in his class when we left with one little boy who had just arrived.
[tribulant_slideshow post_id="1580″]