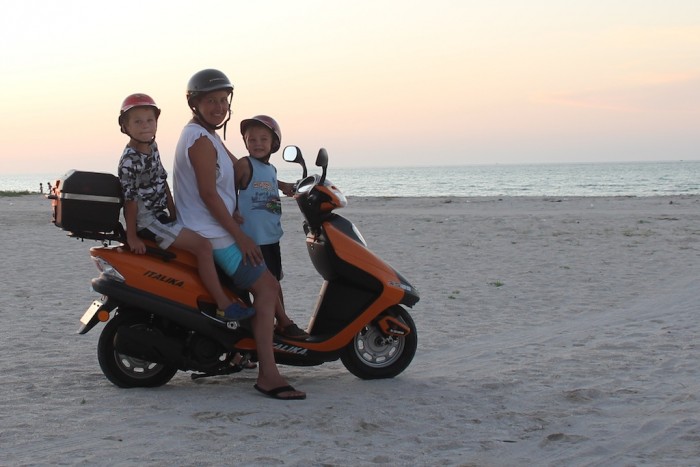 So on Saturday we broke down and decided to make a purchase of some transportation in preparation for the upcoming school year which starts on Monday. We bought a very base model Italika xs125 Scooter for $10,449 pesos ($835 CDN) and came with a helmut. After doing a little bit of research and asking around town, Elektra was recommended to us by several people as the place to buy. As their prices are posted I didn't have the feeling we were being taken advantage of, these prices are the same posted on their website.
Anyways, the purchase went smoothly and I brought the scooter home with Evan hanging on! On Sunday we decided Lyn needed to learn to ride it on the beach, she got a little way from the house when I called her on the walkie-talkie and she turned off the scooter… and then it wouldn't start… thinking it was flooded we let it sit for an hour, then three hours, then over night… So first thing Monday morning I headed into town on the autobus to Elektra to get a mechanic to look at it.
My sales person, Jorge, was fantastic and with his limited "Spanglish" and my very limited Spanish, he was coming to my house to start the scooter. After an hour of watching him take the scooter apart, he said something about a mechanic, jumped on his scooter and left. Thinking he was going to get a mechanic I waited for his return, while I waited I cleaned and organized the 'maids room' at the front of the house which is currently used for storage. Five hours later I once again found myself on the bus heading into town to visit Elektra again. Jorge was not there, he apparently was off eating dinner somewhere and still trying to find a mechanic for me. I was told then by the manager that the mechanic would be at our house in 20 minutes!
So, thinking more like a Mexican, I went to the market and bought some cola and chips and then got on the bus to go home again. Then I sat down with my rum n' cola and chips and waited on the road for any signs of somebody looking for me. I didn't want to chance that they might drive by by accident and not see the bike, which is sitting there in pieces beside me. Just over an hour goes by, and I am on my third 'cola' and there appears on the horizon my 'mechanic.' Well ok, it was certainly not a mechanic, but it was a truck with my salesman in it. They loaded up the scooter in the truck and said we would have it back by 11am manana…
So when 2:30pm the next day rolls around, I got on the bus and headed into the store again to see what was happening as the scooter had not been delivered at 11am… which shocked us all! This time I arrive at the store, see the scooter sitting outside ready to go, and Jorge explains to me that they didn't have anybody to return it to the house but I could take it now. So, off for home I head, riding on the little scooter which is 'as good as new' which didn't make me feel much better as it was still new when it didn't start!
Some other pictures from the week, Pizza and Sushi place with a pouty Noah. We did go for piazza and sushi one night to ZaviPlaya on the malecon in Progreso. The pizza for 100 pesos was huge and the sushi rolls were very interesting. The sushi rolls are made with Philadelphia Cream Cheese in them here, which is something to get used to! We cannot quite remember why Noah was pouting on this night but I thought I would take a picture to show him later.
Oh yes, and I decided to take 'surfer Evan' out for a walk to the rocks one afternoon. It was quite an adventure and we crawled on the big rocks for a bit while trying to see all the fish we could with out slipping and falling.