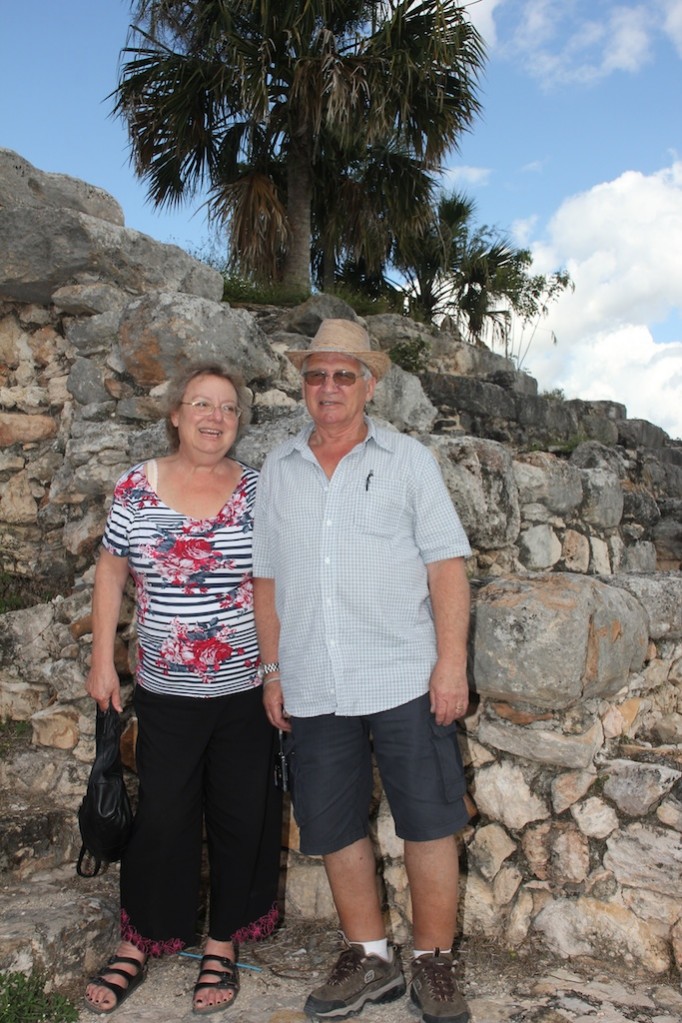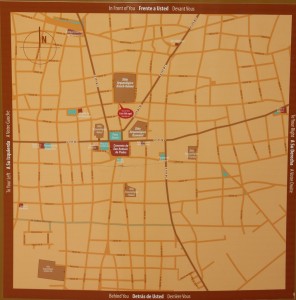 Our third visit to the famous Yellow City was very casual as we were trying to get to our friends hacienda before the afternoon sun disappeared so the boys could play in the pool before dinner. We parked at the main square beside the horse carriages and walked directly to Restaurant Kinich. This restaurant was definitely on the "grandpa approved restaurants list" and we knew he would enjoy it! Grandpa seems to be leaning to visiting more established looking facilities and less towards the street vendors for his dining experiences.
After a fabulous lunch at Restaurante Kinich, we wandered down the street about a block to the main ruin in Izamal. We convinced grandma she could walk up to the first tier to see the base of the upper ruin and she managed to walk up with no problem. Walking down the slightly sloped and uneven stones with out any hand rails was an entirely other matter! With lots of help and encouragement from grandpa, she finally made it done. I am not sure she will venture up those stairs again!
Of course, Evan raced off to the top of the ruin with Noah a little bit behind. I did not make it to the top this time as the boys were already on the way down when I got to half-way so I just took a few pictures and then followed them back down.
Unfortunately we were running out of time and did not have time to go on the horse and carriage ride around this beautiful town. Nor did we even have the time to go through the Convent and Church located in the centre of Izamal. Grandma & Grandpa insisted that we could return to this beautiful town on their next visit to the Yucatan so they could take some more time to explore the Yellow City.
Restaurante Kinich is located on Calle 27 between 28 and 30 and is located close to one of the Mayan ruins that is a must see when visiting Izamal. Easy walking distance from the square where the horse and carriages await to take you on the tour of the town. Just walk two blocks heading away from the main Cathedral and you will be on the right road.
[tribulant_slideshow post_id="3962″]