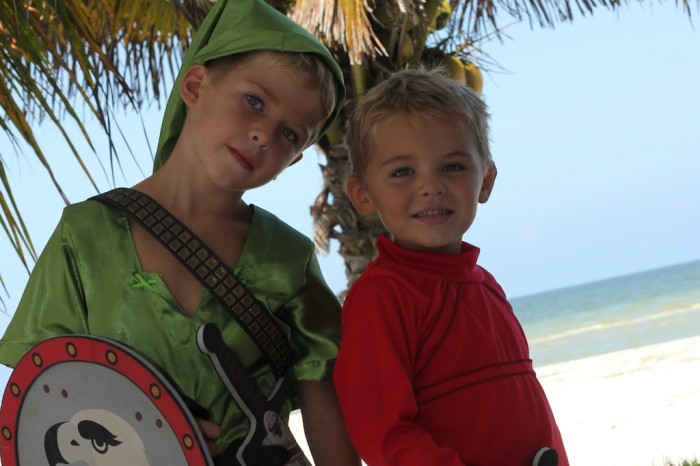 It was Evan & Noah's first big school party today for Halloween. Evan was Link, a character from the video game Zelda. Noah was Kai, a ninja from lego Ninjago. Both of their costumes were made by Modista Gina, a local seamstress who was recommended by Debbie at the school. Lyn just showed her a picture she printed off the internet and the costumes were made from that. Evan's costume was 80 pesos ($6.50CDN), and Noah's was 200 pesos ($15CDN) which seems like a great deal for custom made costumes. We borrowed the lego swords and shield from Debbie at the school.
The party was a great event put on by Debbie and all the teachers. Hotdogs, chips, pop, cotton candy, and of course Halloween cake were all provided by the school. Debbie had arranged for a big bouncy house/slide, and there were games set up all around the school yard where the children could play and win candy. Of course Noah quickly discovered the game he could maximize his candy winnings! He found a table with numbered holes on it and when he rolled a marble and the marble fell into the hole, he got that number of candies… I had to make him stop playing after he had received over 50 candies and was trying to figure out where to put them. He decided to stuff them all in my camera bag which quickly filled up. It took Evan a little bit longer to find this game but he also capitalized on the candy available.
The children all participated in a giant costume contest at the beginning of the party. Evan and Noah both received second place in their class for their costumes. I am waiting for emails on these pictures as I was at the immigration office getting my work visa and missed this part of the party. I will be updating these photos when I receive them which will hopefully be soon.
As a parting gift for attending the party, Debbie offered us our first taste of 'pan de muerto,' which is a special egg batter bread made specially at this time of year for the festivities. And of course, the kids all got another bag of candy to take home which is just what they needed.
The boys are on holidays now until next Thursday as the Dias de los Muertos is Tuesday and Wednesday so they have a super long week-end. This will give them lots of time to eat their candy and drive us nuts!
[tribulant_slideshow post_id="1999″]