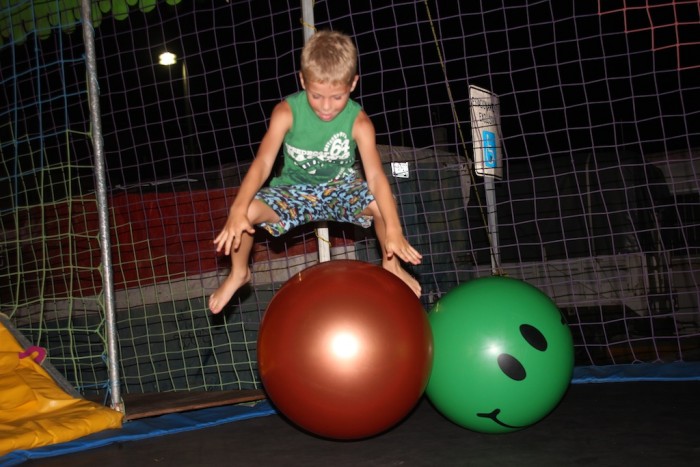 On Thursday night we went to the fair in Progreso which operates every day from July to sometime in August (nobody really knows when the last day is!). There are a lot of rides for the kids to go on, even some fast ones for the older kids. The biggest hit with our boys was the four trampolines all connected and in two levels! One of the trampolines was full of different sized balls, because just having kids bouncing around on a trampoline was not dangerous enough, they had to add obstacles!
We met Mario, Ivonne, Bruno, Sophie and Mario's niece 'beebee' at the fair as a continuation of our previous days activities. We were going to go to the fair the night before after having their family over for the afternoon, but after dinner Wednesday we all decided to postpone the event til the next night.
The fair was better than our last fair at the Temozan bull fights, but certainly was not 'Disney Approved.' You really have to watch where you are walking in Mexico: sidewalks have their own obstacle course with holes and hanging things and fairs do not have fences surrounding any of the rides so you could very easily accidentally walk into a fast moving ride. Another example of survival of the fittest hard at work!
Of course the evening was wrapped up with Marquesita's for everyone and as we were walking down the Malecon, there was a rehearsal for a dance production the next night. We sat on the beach and watched as the director 'directed' and help perfect the dancers for the upcoming show. We had plans to come see the full production, but after spending Friday in Merida, we did not get home til almost 10pm. At which point we 'skyped' the Nicks family and had cocktails 'til the wee hours!
[showtime]