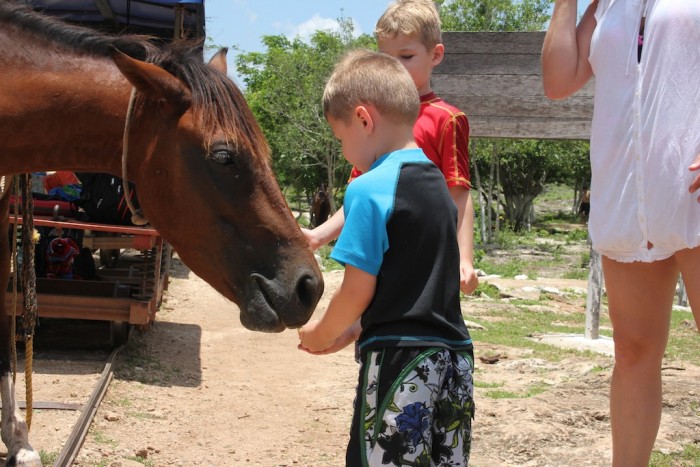 Today we undertook a grand adventure to Cuzama to see its famous cenotes. Appealing factors for visiting these cenotes is that you are taken from cenote to cenote via 'trucks,' which are little cars pulled along rails by horses over 7 kilometers. This is an old sisal plantation of the Yucatan and offers people a chance to see its three cenotes: Chelentun, Chansinic'che, and Bolonchoojol which are all located on an old sisal hacienda which is now in ruins.
This is an adventure we tried to have last week but we went to the wrong bus terminal. This week we had the right bus terminal, Noreste, and were on the way. There are tours available from Merida if you do not care to ride on the bus, but to us the bus was half the adventure.
We arrived at the Noreste terminal at calle 50 and 67 in Centro where we purchased our bus tickets to Cuzama. The tickets were 18 pesos each and the kids were half price, so the total for the bus ride was 54 pesos ($4.42 CDN) for the almost hour long bus ride heading east from Merida. Now this is what is considered a 2nd class bus, not a chicken run bus! The bus itself was great and air conditioned but it was not 'directo' and managed to stop in almost every little village along the way and the road was shared with a lot of bikes and it seemed every other minute we were slowing down for another speed bump. But for the price, it was worth while seeing all the villages and the different landscape from Merida. Once again, I would recommend getting the front seats on the bus. They were great.
Once we arrived in Cuzama, we were greeted by a long line of bikes with buggies on the front, some were motorized and some were not. We managed to get on some motorized ones, at a cost of 25 pesos per person ( $2.05 Cdn) with two people per bike (100 pesos one way) and raced about ten minutes along the streets of Cuzuma to the entrance to the cenotes. Now I know there are two different entrances to the cenotes but I was unsure as to which one I was 'supposed' to go to so we just went where they took us. One is apparently more politically correct than the other (if anybody can post here which is which that would be terrific!). Next time we go we will go to the second entrance which is run by the folks from Chunkanan, which is where the tour originally started from.
We arrived at the beginning of the cenote tour and were greeted by a long line of tour guides to take us on our way. Felipe was our guide for the day and we were loaded onto a cart, which resembled an old carriage, and was to be pulled by a tiny little horse. At this time we thought it would be a nice little ride to the cenotes… It proved to be about a 20 minute ride to the first cenote, the first five minutes were quite fun but the rest was just long. Not a Disney approved ride of course with no seat belts, no safety checks, no concern for safety at all really, and took too long of course but the end result was worth it! The price we were told at the beginning of the tour was 250 pesos ( $20.52 Cdn) for the four of us to tour all three cenotes. The time spent at each cenote is really up to you, but on busy days they restrict you to 30-45 minutes each one. Luckily for us it did not seem that busy on the Thursday afternoon we went, although it was busy enough for us ~ I am not sure I would have liked to share the 'landings' with many more people.
The first cenote, easily accessible for most everyone, had a staircase (well, lets call it a staircase) leading down into the "wide open" space of the cenote with lots of space to prepare yourself for swimming. This cenote had a couple of 'booths' at the top which could sell you beverages, snacks, rent you goggles and lifejackets. Everyone loved the first cenote and had a great time swimming with the fish in the fresh water and watching the birds overhead. My pictures cannot do this justice, I will try to get back to get better pictures at a future date. Evan, Noah, and myself all jumped from the ledge to the nice fresh cool water.
The second cenote had a smaller opening… When I say smaller I mean when you are going down the stairs if you are over five feet tall (most Mayans are not this tall) you will actually need to sit down on the step as you avoid smashing your head on the rocks above. Once you circumnavigate this part of the stairs, the rest seem quite easy – well until you get to the bottom and the last few steps are wet and very slippery but there are sturdy railings to grab hold of. At the bottom of this stair case (using that term quite liberally) there is a landing. Hmmm, well sort of a landing I guess. The stairs do end, and there are boards laid around protruding rocks with gaping holes in them, but if you are careful it is somewhere to stand. Oh, and this is where you 'get' into this cenote. Ok, maybe not 'get' but, this is where you jump the 15 feet off the 'landing' to the water below. The exit from this cenote is a 'ladder.' Well ok, again it may not be a 'ladder' one would find at Home Depot, but instead a series of branches 'secured' to posts to climb to a landing.
Ok, again, maybe not a series but, at one time it may have been a series, now there are some steps missing and this lower landing is mostly where you try to scramble over the top from the steps below and roll on your stomach. Kind of like when your ladder doesn't quite reach the top and you need to hoist yourself up by your hands and flat on your stomach while groping around for a handhold on a very wet piece of flat wood.
And once you get out, your heart desires to jump in one more time! So in we go, I am waiting in the water for Evan to jump in, when all of the sudden he dives into the pool headfirst. Now I am in the water, and it is high enough that I am thinking "WTF" as people are gasping and clapping on the platform. His dive was exceptional but I think it even surprised him as he came up gasping for air. I will give him this, there were no tears but he did not do it again.
At this point we were off to the third cenote which we had already heard was a ladder going down a hole to the cenote 24 meteres below… Just for fun we had our guide take us there to see it but needless to say with the young boys along we did not venture into the tavern. It was a hole in the ground about a meter in diameter with a ladder going straight down to the cenote. I guess once you are down there it is quite big but not much light…just the sunbeams coming in from above. I am not sure I would have gone anyways, but maybe next time. This cenote looked beautiful from above, we did get to look into it as there was just a little hole in the ground letting light in.
Then we took the same route back to where we would take the bus to Merida. The guys driving us in the buggy attached to the skooters dropped us off at the "bus station". The "station" here in Cuzuma is not labelled so look for an empty looking store on a corner kitty corner to the church in the main plaza…it was just an empty room with some plastic chairs and a few snacks and drinks for sale. The guy there was wearing a FUTV cap which I think is the terminal name. We were early for the bus (it was scheduled for 3:00) but he said there was a collectivo we could take ( for 19 pesos pp- $1.55 Cdn). The "collectivo is a passanger van that holds about 15 people. We opted for this choice as we didn't want to wait the extra 1/2 hour for the bus….which we think was coming at 3 but our spanish was meager to say the least and the guy at the terminal did not speak english. Not sure what we were getting into we were pleasantly surprised… the van was faster and didn't stop as often…but not quite as cool and comfortable. So we arrived back in Merida about 40 minutes later and took a cab back to our house!
I would highly recommend this trip to anyone looking for something different and to see more of the Mexican way of life.
Suggested items to bring with you for this trip:
Water, lots of water
Sandwiches and snacks (especially if you have kids) you can eat these on the carts between cenotes
Water Shoes – for walking around the cenotes for sure footing
Goggles, Snorkles, Masks, Flippers if you really want to explore the cenote
Life Jackets are available for rent but you may bring your own.
Water wings – our youngest found the water very deep and was much happier with the water wings on.
Water shirts for everyone for quick drying between cenotes
Apple for the horse
Towels, but I would recommend the 'shammy' style to save space
Camera (I would recommend a tripod to get the best pictures in the cenotes)
Backpacks, there is very little area to store your stuff on each landing but you can leave them with your cart
Cooler: for people who want a colder lunch and beverages you can strap a cooler to your cart