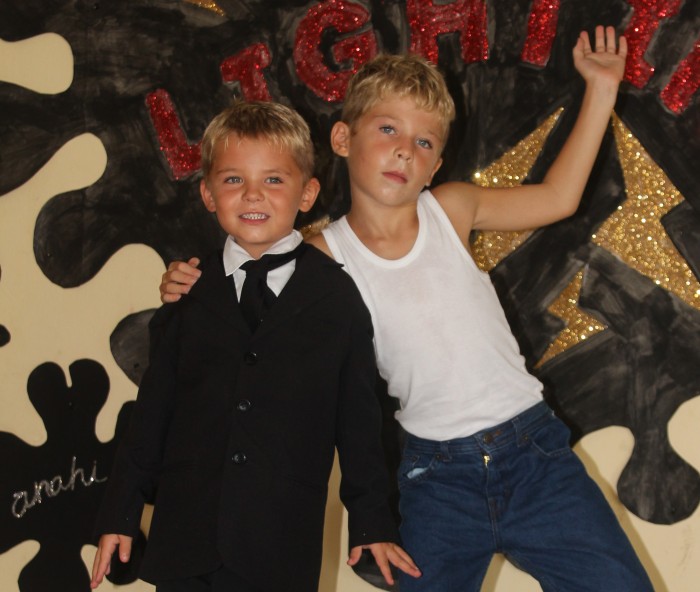 Noah has moved up to grade 1! We are so proud of the little guy and can't believe that time is flying so quickly. Noah had a fabulous year in K3 in Mexico and absolutely loved his teacher, Andrea; his classmates, Javiar, Jonatan, Desiree, and Daniel; and of course the Montessori school run by Debbie. Both of our boys learned Spanish very quickly in their first year which we believe was due to the great environment offered by the school. Small classes and understanding teachers were key to their survival.
The graduation from kindergarten to grade 1 is a VERY BIG DEAL here and all the children practiced their ballroom dance moves for many months before the actual event! The girls all wore beautiful gowns and the boys were all in suits and ties. The theme for this year's graduation party was from the movie Grease. All the boys were dressed in blue jeans and white wife beaters and the girls were in their beautiful dresses.
Debbie had rented a little hall behind the immigration office for this event, which had lots of windows for a cooling ocean breeze… however of course on the day of the event there was not a breeze within 100 miles of Progreso! It was so hot!!
The ceremony started with all the opening acts where all the students performed their dances and then we had to quickly rush and change the little guys into their 3 piece suits in the hall which by this time was well over 35C. Try getting a little boy into a 3 piece suit when he is soaking wet! The socks had to be the most difficult

Thank you to everyone who helped our Noah get dressed for this event! I had to buy jeans for both boys, this was the first time they wore jeans in the entire year! We managed to borrow the jean jacket – yes it is lined with fleece as when it is winter here the temperature does get down to about 18 degrees Celsius which is very cool…. And yes, those are crocks that Noah is wearing with his 3 piece suit! I couldn't bring myself to buy black shoes for the hour event!
Evan started his main dance right when I managed to run back to my seat to start up the video. I was very lucky to catch him doing the cartwheels across the stage that he had been practicing for many weeks. He did a great job and was so proud of his cartwheels.
This was our last day in Progreso before our summer holiday adventure to visit friends and family back in Canada for the months of July and August. We had just spent the last week cleaning and packing all of our stuff as we had to move out of our current house and place our belongings in storage for the summer to be ready to move into our new home in September. We were very busy and left the graduation party right after the dances and the certificates were presented as we had to catch the bus in Progreso to Merida to then catch the bus to Cancun where we would spend the evening before boarding our flight to Calgary. But the news of our adventure will be in a different post. Many thanks to Gulam for helping us move and get out of the city on that afternoon!
Congratulations NOAH!!
[tribulant_slideshow post_id="4443″]