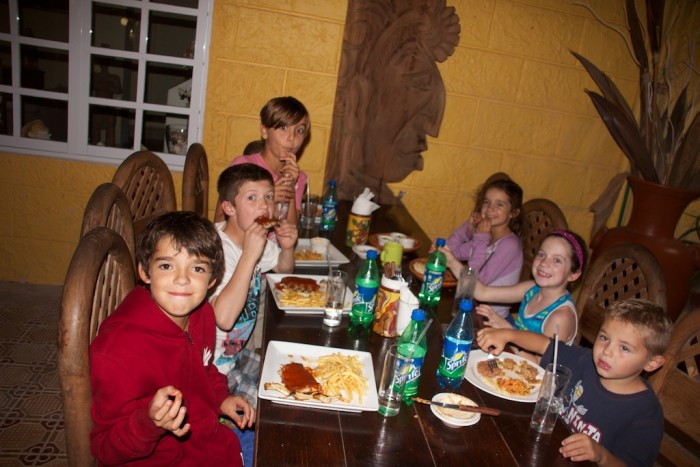 We have had several meals at the Yakunah Hotel in Progreso. This restaurant is located on the east side of Progreso past the end of the Malecon on Calle 21 just past the Montessori School and is one block from the beach. Basically you drive east on Calle 21 and go until the road changes from pavement to sand and it is on the right.
This is a beautiful building and has a great covered patio in the courtyard complete with swings at the patio bar. They have several nights which are very entertaining and have a Jam Session on Wednesday afternoons. We have not been there yet for the music but hear that Sol Survivor, Danny & Frank, play there often. There is a hotel and restaurant in this establishment. The restaurant is open at night starting in November when the expats make their gradual return to the Yucatan. I believe they are open year round for breakfast which ends at 11am.
Appetizers at night start at 60 pesos each and have Soup, Buffalo Wings, and Poutine to name a few favourites! Then on to Tex-Mex specials, I have had the Burrito platter both times so far, but next time I am going to have the Ultimate Stacked Enchilada. In this section of the menu they also have: Tacos, Burrito's, Toastada's, Quesadillas and the Enchilada.
They have a variety of North American styled food with a twist – the hotdogs, burgers, club sandwich, blt's, and offer some great tastes from home. The steak of the day, baby back ribs (which they serve in 1/2 half racks for the kids @100pesos) and we have heard that the Twice Backed Potato is amazing.
Yakunah is a great location for a dining experience in Progreso, Yucatan and is frequented by many expats. Reservations are recommended especially for large parties. We had 16 people this night and gave them an hour and a half notice to work around their other dining reservations that night. Prices range from 80 – 175 pesos for dinner and they have nice portions.
[showtime]