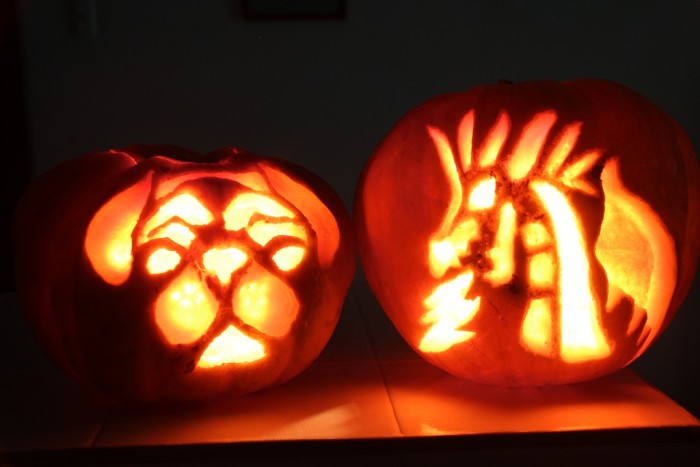 Today we went to our first ever pumpkin carving contest! Yayyy, the boys were so excited and could not wait to carve out their pumpkins. After searching for hours on the internet of different items, Evan chose the Dragon and Noah choose a Pug. Of course after Evan had chosen his and it was decided I would be his 'helper' I went right to Martha Stewart's website to learn how to carve pumpkins correctly. She was very helpful, but I am not sure I am the quickest learner. So off we went to our Dana & Fabian's house on the beach to carve our pumpkins, armed with lots of pop, chips, and the stencils we would need to draw on the pumpkins.
Of course we arrived at exactly the right time, not wanting to disappoint anybody that Canadians were always on time – even in Mexico. Holly & Rob were fashionably late, but they had emailed earlier that day saying they would be late. We had fabulous sandwiches and chips before the carving started. Dana had made all kinds of special sandwiches and labeled them all for us. I think the 'Nutella & Banana' was the favorite, then the turkey and cheese, then the ham and mozzarella, then the cucumber and Philadelphia cream cheese.
Lyn was busily tracing the stencils to paper from the lap top for us as we did not know how detailed our competition was. After seeing their pictures from the previous years competition we are glad we came prepared – it just would have been great if we knew what we were doing.
To start the competition, all the children had to pick a number from a pumpkin pail, then Dana called out the number from the bottom of the pumpkin to determine who got which pumpkin to carve. All the children were very happy with their pumpkins and headed off to the table to start carving. Teams were: Lyn & Noah, Kurt & Evan, Holly & Isha, Rob & Oliver, Adian (with little help from Fabian) and Quincella (all by herself and she is the reigning champion). Dana was a most gracious host who did not have to help her children carve this year as they were old enough but was there to lend a helping hand to everyone who needed it. Next year, I think she will have an adult carving competition as well because she wanted to carve a pumpkin too! SO the goal was that the kids would compete…
All the kids quickly got into hollowing out their pumpkins, except for Evan who had to wash his hands between every scoop, and he only scooped out three times! Noah enthusiastically helped Lyn get the insides out of his pumpkin. Evan drew the dragon on to the pumpkin and he did a fantastic job doing it following the lines very carefully and poking the tool into the pumpkin creating hundreds of little holes. Lyn drew and carved Noah's pumpkin with Noah checking in on her from time to time as he watched a show with Vida. I think all the kids completed their pumpkins with their helper except for Evan & Noah, who would wander over for progress reports every once in a while.
After the carving was completed we waited for it to get dark so we could take pictures of the pumpkins.
CONGRATULATIONS Quincella for Stella the Sea Turtle!!! as voted by family and friends on facebook, thank you to all who voted!
Quincella – Stella the Sea Turtle – First Place
Noah – Norman the Pug – Second Place
Evan – Zip the Dragon – Second Place
Adian – Scar the Killer Pumpkin – Third Place
Oliver – Pedro Mexican Wrestler Mask – Third Place
Isha – Oui Oui French Cat – Third Place
A BIG THANK YOU to DANA & FABIAN for hosting this fabulous event! The afternoon and evening was fantastic and everyone had a great time
[tribulant_slideshow post_id="2101″]