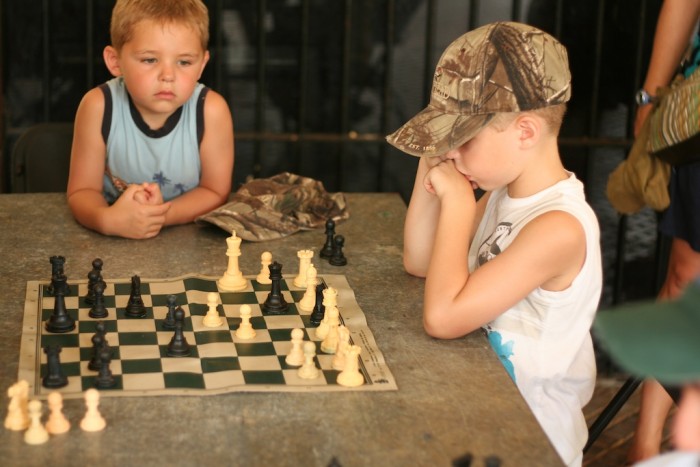 On our last day in Merida, we decided to venture to the Plaza Grande for a couple of hours to see things we had not seen already. After watching a couple of Yucatecans play chess in the park Evan was invited to play a game! This was his first game aside from playing his brother or myself and he did pretty good. The gentleman he was playing was very nice and helpful.If anyone knows where we can get this portable chess board with plastic pieces we need one!
We were there in time to see the kids street show sing-a-long featuring: Woody, Jessie, Barney, Sponge Bob, Little Mermaid, and others.
Then we had a look in the Cathedral, Catedral de San Ildefonso, which was the biggest church the boys have ever seen. Lining the floors of the church around the outside was all stamped floor tiles where people have been buried, most of them dated pre-1900. The church itself is massive and the pictures I took do not do it justice.
After we toured the church and the museo de MACAY (see other post), we had a quick lunch at Burger King, as this is the last fast food we will get to have for a while. Then we decided to take a carriage ride to Mercado Luis de Galvez. They originally quoted us 150 pesos but Lyn negotiated the price to 100 pesos for the 15 minute ride. It was nice to take the carriage because it allowed us to see a lot of the stores along the way as compared to taking a taxi. You might ask, "why didn't you just walk…" well because it was HOT!
Our only purpose at the market was to find Noah and myself a change purse like Evan's. Of course we didn't buy one two weeks ago when Evan bought his, but since I have been using his since then I had to get one to. Noah found the one he liked right away but I of course couldn't. It took us quite a while to find the exact booth Evan had purchased his from and we had almost given up when we found it. Now Evan can have his coin purse back and I have my own.
[tribulant_slideshow post_id="1333″]