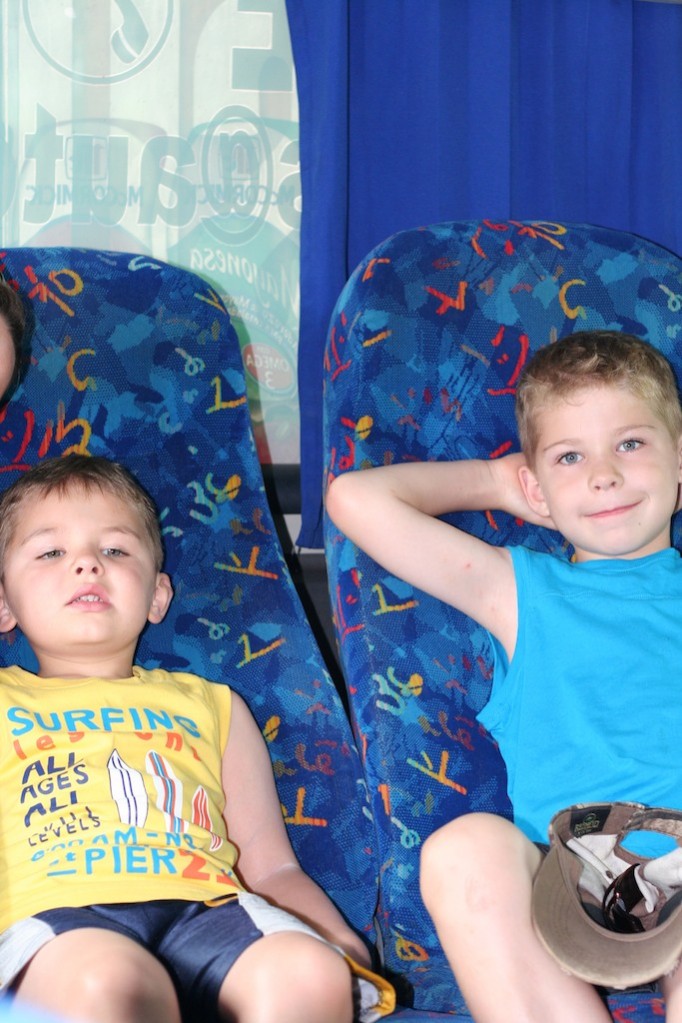 Today we got up and took the 35 minute bus ride to Progreso from Centro Merida for only 16 pesos each. The bus, which is considered 2nd class I believe, is actually very comfortable and has air conditioning and tv's. Not that you want your 5 and 7 year old watching the movies they are playing as they don't seem to have a rating system here.
The boys were very excited to see their new school for the fall and meet Deborah who owns and operates the Montessori school in Progreso. Deb was very accommodating and when the taxi driver beeped his horn, she came out from her home to meet the boys and give them a tour of the school complete with lemonade at the end of it. Evan & Noah were quite impressed that there were several iguanas, some of them quite large, whom the students refer to as pets. As I was watching one big iguana slowly walk across the courtyard I wondered where he would go next as he was running out of room. The iguana proceeded to climb the vertical brick wall! Now I am not sure but I think the bricks are about 10″ high and he spans 4 of them, which makes him over 3 feet long probably closer to 4 feet. I did try to get a closer picture but he really ran up the wall.
Evan and Noah were very excited to hear Deborah's plans for the summer school starting July 15th would include special building projects with LEGO. They were even more impressed when they learned she had Star Wars lego. The summer school will consist of swimming, beach days, cooking, special arts and crafts, and while most of the students will be getting English lessons, Evan & Noah will be receiving their first Spanish lessons.
After our school tour, we headed down the block to the beach to start the mile long walk along the ocean back to the malacom (boardwalk) where we were meeting Tamara for lunch at Eladio's. The boys very quickly changed into their swimsuits and wear walking along the waters edge collecting sea shells. Of course there were thousands of shells but we managed to convince them that only two per day was quite sufficient at this point and they could collect many more at a later date.
Lunch at Eladio's was ok, today was a cruise ship day ~ this is a day most locals leave town and all restaurants have different menus with much higher prices for the crazy tourists. Of course we tried our best to tell our server that we were not one of 'those people' but I am not sure he believed us. We did have a great conversation with Tamara, a realtor from Tierra Yucatan who has been extremely helpful to us, and Danny, who provided us with lots of unique insights to living in Progreso.
We started to walk towards our house but instead we ventured onto the small fishing pier where we watched many locals fishing for many different and specific fish. Some were throwing nets in, which Noah really liked, and others were using just the line and hook with bait and catching mid size fish. I believe we will be spending a lot of time out there watching and helping the locals. Evan & Noah both were picking up the minnows as they fell out of the nets and putting them in the buckets.
The heat really got to us today, so we did not get right to the beach in front of the house, but the boys really got a good idea of where we would be moving to in August. I would like to say they were excited but they were just happy to be back on the air conditioned bus at that point.