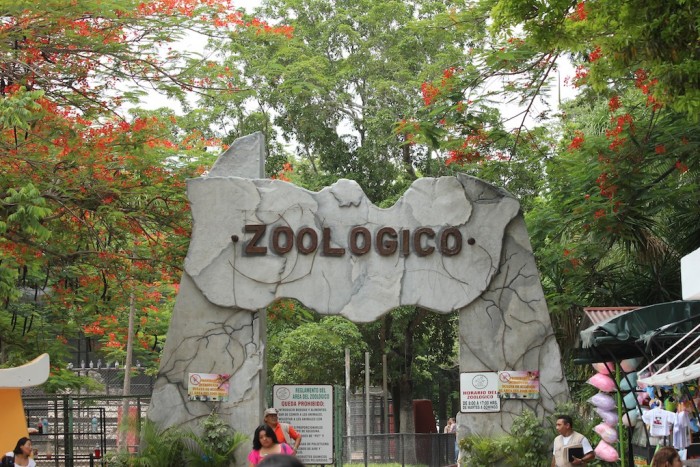 Today, we decided we would walk to the zoo, which is really just around the corner… Unfortunately I relied on my iPhone for directions and it took us on a shortcut which was almost twenty blocks out of our way, it did get us to the right street – just 20 blocks north of the zoo. This did not win us any point with the boys as walking in this heat is almost unbearable. I should keep track of how many times I hear "why haven't we bought a car yet."
The zoo itself was much more than we expected and had several different areas to explore. The entire park is free admission, but you need to pay for some of the rides. For example: the train ride all the way around the park is 1 peso. So for 4 pesos (or 33 cents CDN) our family was able to ride the train around the park. Even Gabe couldn't gripe about the cost of that ride! There was a space to ride mini motor bikes and quads through a track and three laps cost 15 pesos ($1.24 CDN), unfortunately you have to be eleven to ride by yourself on the motorized vehicles so I had to ride with each of the boys driving.
We definitely saw many different animals and birds we had never seen before. The jaguar, panther, puma, white tigers, all sorts of deer like animals, toucans, parrots, and of course you cannot miss the BABY HIPPO – so cute!  It seemed everywhere we looked there was another baby cat of some sort hidden away in caves in the walls. And we have finally all seen the famous 'Monstruo de Gila' or for the English version Gila Monster!
Obviously as you can see from the pictures below, the water park was a hit with everyone. Of course Noah got right in there and rolled in the water. Very refreshing way to spend an afternoon and now that we know we can walk there in less than 15 minutes we will probably spend more mornings there.