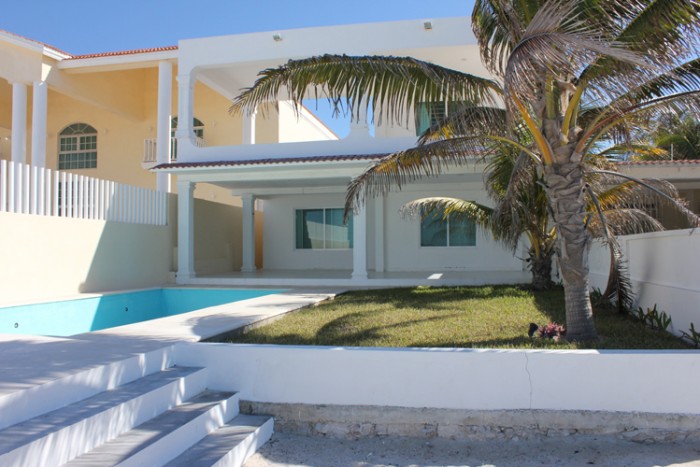 Well after looking at over 25 homes to rent this week all over Merida we have finally found one that we both agree on! We have decided the community of Progreso, just 15 minutes outside of Merida, is the best spot for us to experience Mexico for the upcoming year. We found a home which fits our budget and offers a lot of the items we are looking for, mainly a pool that you can actually swim in. While we are unsure about the sand blowing in off the beach, we figure that for a year it will be a great experience. The town of Progreso is developing everywhere as it is a fairly new port for some cruise ships, which we can see docked in the distance from our patio.
The house itself is a three bedroom, two down stairs and the master bedroom upstairs, with 3 bathrooms (in Mexico every bedroom gets their own bathroom – go figure!). Great main deck that is half covered overlooking a good sized pool and trampoline with the Gulf of Mexico right in front of us. It will need some love in the decorating department, but for a furnished home it is not too bad especially for what we have seen over the past week. Most homes that were furnished we would have asked them to remove the furniture! The master bedroom is huge the entire top floor of the house and has a deck that is covered overlooking the Gulf of Mexico.
Evan and Noah will probably share a room which currently has two bunk beds in it and is a very big room! We may move the day bed from the master bedroom into their room as well as there is so much space. They have their own blue bathroom right in their bedroom and the shower has a locking door to the outside of the house so that when they come in from the beach they will have to walk through their shower first!!
The beach extends for miles in either direction in front of our house and we have been told the water stays very shallow for a long way into the gulf. We saw many little wooden boats docked for the Mayan fishermen. Cannot wait for some fresh fish!! Also we have been told and read that there is no undertow to speak of which means it is a pleasure to swim there.
The town of Progreso has a lot to offer and while not as big as the million people in Merida, which is only 15 minutes away, we have heard there are about 50,000 people living in Progreso but Wikipedia says only 35,519. Many residents of Merida spend July & August in Progreso at their summer homes. The seaside promenade, the 'malecom,' is being constructed right now and looks beautiful lined with restaurants, stores, and markets. As a tourist destination there is always something to do, or another tour to go on and we look forward to exploring the Yucatan with our boys.