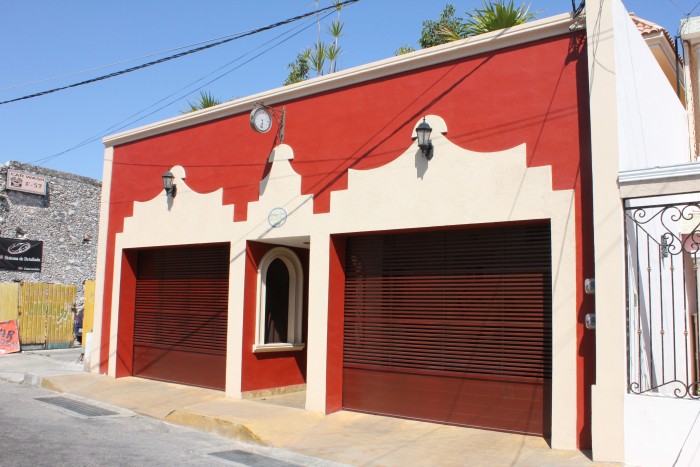 Checking in to Cascadas de Merida was a dream, Chucho was awake when we arrived at 12:30am local time and very quickly got us settled in after a very long day of traveling. As we carried our luggage, with Chucho's help of course, past the pool and waterfalls to our casita in the back corner of the property we were amazed by the beautythat laid behind the simple facade out front.  Each individual casita was equipped with a tv, wireless internet, phone, air conditioner, grotto like shower, and king size bed with beautiful Yucatan linens.
We awakened Tuesday morning to a beautiful breakfast prepared for us with fresh coffee & juice, danishes, fruit, yogurt, and a hot breakfast item of scrambled eggs, peppers, fresh corn tortillas (like a breakfast burrito). Even though we had slept through the main breakfast due to our late arrival and then had set our clocks to the incorrect time, Ellyne ensured we received the best hospitality. On limited time she helped us get the day started and we were off!
Our first adventure was to see the city, Ellyne set us up with a city bus tour and recommended the 'knocked out school bus' which would enable us to tour the city without any hindrances like pushing power lines and tress branches out of our way (hence not taking the double decker bus tour). Ellyne provided great instructions on how to get around the city and we found ourselves touring the streets of Merida while we waited for the bus tour to begin. The bus tour was very educational but simple enough, we got to know more about the history and main areas of Merida. On the bus stop at the Fiesta Americano hotel we used an ATM which allowed us to take out money in either Pesos or US dollars. (We opted for pesos and will inform you of the exchange rate when we see our statement). Many merchants in Merida will not accept US dollars in an effort to decrease the money laundering of the drug cartels.  Ineresting fact we discovered about the Yucatan: one of the reasons the peninsula is not overrun by the drug cartels is because the land, heat, and humidity make it impossible to grow illegal drugs. We probably need to confirm this but as of now we believe it.
After the bus tour we came back to our casita to freshen up and have a quick dip in the pool. Ellyne was more than hospitable again, inquiring about everyone's day and bringing us fruit drinks. Of course she made fun of us for being sucked in by a local to buy an 'authentic Mayan Panama hat' as the Mayan co-op was closed the next day for ten days to count inventory…. So not true! Apparently there is no such thing as a Mayan co-op and if we had only read her instructions we could have saved money. We have since read her instructions and will hopefully not be so gullable in the future!
After spending more than an hour with us and giving great information on how to spend our first evening we were off for the night. We walked from our place to  restaurant frida (see restaurant reviews for more) and were enjoying our appetizers when we were joined by another couple from the B&B. Richard and Julia from Seattle, joined us for a lovely dinner where we watched a bunny hop around the restaurant. Our boys would have loved to see that and we will definitely bring them to this restaurant when we move in July.